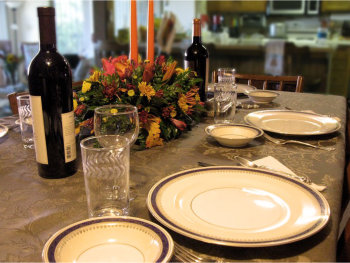 Jennifer's mom says she's going gambling instead of spending Thanksgiving with her and her kids.
Sam is upset that his mom is spending Thanksgiving with his brother and wife and he's not invited because he and his brother had a falling out.
Lily cancelled Thanksgiving with her mom this year because she has issues with her stepfather.  She's also separated from her husband, so she decided to just book a trip to Mexico for Thanksgiving.
Marissa is gay and in a new relationship with her girlfriend.  They're traveling to her girlfriend's mother's house for Thanksgiving, but the mother won't let them sleep in the same bed.
Sherri's boyfriend is recently divorced and won't let his children know that she even exists.
Craig's family celebrated Thanksgiving early and his adult daughter went off on him over his recent divorce and new girlfriend, blaming him for all the problems.
What They Did
These are many of the messy situations many of us, and certainly my clients above, are dealing with during the holiday season.  The holidays are filled with unrealistic expectations of closeness and happiness of being together with loved ones.  The expectations are often unrealistic because we forget about past unresolved issues with family that often rear their ugly heads.
This isn't the first time Jennifer's mom has bailed on her and the kids, it's just that when it's a truly special occasion, it hurts more.  Jennifer was waiting to see what her mom was going to do, hoping she'll come to her senses and change her mind and do the "right thing."  I told her maybe she should make her own plans without counting on her mom and tell her mom that.  Or, try to make some sort of deal (respecting what her mom wants too even if she doesn't agree with it).  Maybe say, "If you'll do the holiday thing with us this year, I'll drive and take you gambling the next weekend.  Deal?"
Sam confronted his mom and asked if she would invite him and his brother both to Thanksgiving and if the brother doesn't come, so be it.  She said it was too late this year, and that she still has issues with him regarding his drinking.  She said that if he gets his issues with her worked out, and if she trusts that his drinking is under control, it might be possible in the future.
Lily's husband was upset she was going to Mexico for Thanksgiving, but she told him that while they are separated, she can make whatever plans she wants.  He was not happy about that, but they finally agreed that she should have given him more notice and will next time.  As far as her mom is concerned, she wrote her a letter describing how her mom has let the stepfather damage their relationship.  She told her that she's willing to spend time alone with her mom, and maybe even do holidays again in the future once she can make sure she and her mom have a healthy relationship keeping the stepdad out of it.
While Marissa knew not to rock the boat with her new girlfriend's mother at this point, she did tell the girlfriend that she would like her to try to get this issue worked out with her mom ahead of time.  She also plans to save money for a possible hotel for future trips.
Sherri spoke up to her recently divorced boyfriend and he agreed to a small trip for the two of them also promising to let his children know he's dating her within the next few months.
Craig had been secretive about his last relationship with his daughter, so he finally told her some of the problems and things the last wife did that helped cause the divorce.  Then he said, "If you still have issues about my divorce from your mom, we can talk about that."
You may or may not agree with the outcomes of these clients' issues, but the point is that the issues need to be resolved in some way.  Most people just carry the family resentments from year to year hoping their family member will come to their senses and "change," since you probably think they are wrong.  Do you have unresolved holiday issues?  If so, these issues need to be confronted, and compromises and deals need to be made that will work for you and the family member.