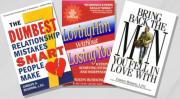 Carolyn is the author of the books The 7 Dumbest Relationship Mistakes Smart People Make, Loving Him Without Losing You, and Bring Back the Man You Fell in Love With

| | | |
| --- | --- | --- |
| | | |
| | Watch Carolyn on Oprah on Addictive Relationships | |
| | | |
| | | |
Carolyn Gave Advice on Oprah!!
If you're single, I can help teach you the dating skills you need to find that deep connection you're looking for.

If You're Married or in a relationship, I can help you resolve issues to improve your relationship.

If you're struggling with life's problems, i.e. depression, anxiety, etc. I can help you work through personal dilemmas and provide direction through life coaching and/or psychotherapy.
You may need help
getting out of a bad situation

improving your relationship with your mate

solving family problems with parent and siblings

learning how to date in a way that gives you results

finding your soul mate

feeling lovable/improving your self-esteem

breaking out of depression and/or anxiety

saving your marriage

deciding whether to stay or leave

communicating in a better way

standing up to controlling people
Watch Carolyn talk about
Finding Your Own Time and Space in a Relationship on the
KDVR FOX 31 Everyday Show




Watch Carolyn talk about
Little White Lies on the
KDVR FOX 31 Everyday Show



Carolyn Bushong, L.P.C. is
Carolyn's Therapy Approach:
Anyone who knows me already knows that what separates me from other therapists is my ability to assess your situation quickly and give you clear, direct, substantial advice. You will get valuable information on how to change your relationship and/or your life in the first session. I am compassionate, but also confrontational. If you want to stop making the same mistakes and move forward in changing your life for the better, I am the therapist that can help you do that.
You're the best therapist!
I want to thank you for being the kind of person you are--honest, forthright, direct, warm, kind. I had been to therapists before you and no one helped me like you did. I got that genuine feeling from you right away--and I'm forever grateful. ~ Sue, Indiana

Thanks for your help with personal growth, relationships and my children!!
Carolyn Bushong is the best and the brightest of therapists nationwide! I enjoyed my incredible learning experience with her. The people Carolyn meets and works with always have an exciting, challenging and wonderful experience. ~ Marion, Fashion Designer , Syracuse, NY, Aspen, CO, Stowe, VT

You raised my self-esteem!
Words alone are insufficient to express my gratitude towards you. Your advice and concern over the past couple of years gave me the tools to acquire what I have now: a wonderful, satisfying, secure life. I am pleased with myself, my looks and my career. I used your advice about relationships to end an unhealthy one, and I've used your advice to ready myself for a happy, productive, fulfilled life, with or without a man.
Thank you a million times over. You helped me find within myself an entirely new and better person. What a gift! I am so lucky to know you. ~ Ricki, Thornton

You gave me courage!
I wanted to let you know that my father finally caved after 1 ½ years of me setting and holding my boundaries. I never backed down and I made him look at what he said and did to me. We've wiped the slate clean and I feel so free on so many levels. Even my husband is starting to come around. I feel so relieved! I held on, and now I just need to shine some more brass balls in other areas of my life and I'll be fine. I just wanted to let you know how much I appreciate you as a counselor. You helped me so much!! ~ M.T., Tennessee

You turned my life around!
I wanted to thank you for changing my life around. Your book was what initially inspired me--I related so much. I couldn't believe it, I felt like you were following me. Anyway, it was the counseling that truly turned my life around. I like your way of counseling. You are so direct...you don't caretake and you don't support client dependency. Basically, you don't encourage the "woe is me" attitude, and I totally appreciate what you did for me. ~ Joe, Castle Rock, CO

You helped me and my son!
My son and I talk frequently about how much we learned from you about communication and setting boundaries. Thank you for helping both of us to be healthier in all of our relationships.

Who is Carolyn Bushong:
Carolyn Bushong, L.P.C, is a Licensed Professional Counselor who specializes in relationships. She is known as one of the top relationship therapists in the country and has authored 3 relationship books. Carolyn Bushong has been helping women and men, married and singles, improve their lives and relationships for more than 25 years. She has appeared as an expert on Oprah many times, as well as the View, and has been giving relationship advice on Denver radio for more than 15 years. Cosmo, US Weekly, and other magazines call her when they need expert relationship advice, and she also writes articles for magazines and on-line article banks. Carolyn Bushong offices in Denver, CO, but she also conducts phone counseling with clients all over the world. Carolyn Bushong lives what she teaches, as she is in a happy, healthy relationship with Alan, her mate of 24 years.
Can't find what you're looking for? Contact us, we'll help.

10 Ways to Improve Your Relationships And Your Life!

By signing up for Carolyn's newsletter, you'll receive 10 Ways to Improve Your Relationships And Your Life! Free. Don't want to sign-up for another newsletter? Now you can get it instantly without clogging up your in-box!